The Grammy's were on last weekend, and obviously, the internet had lots to say about them. Here are some of the good, the bad, and the crazy moments and looks from music's top awards show that led to some hilarious memes.
The host for the evening was James Corden. And he…..well…..
I came for Beyoncé but James Corden is out here falling down stairs and rapping. #GRAMMYs pic.twitter.com/UsUI5rqmsL

— Affinity Magazine (@TheAffinityMag) February 13, 2017
  was awkward.
  accurate   A post shared by BuzzFeed (@buzzfeed) on
Really awkward.
But it was fine because this night isn't about him. It's about the music. And the people who make it. And what the people who make it are wearing.
Which brings us to-what was Ceelo Green wearing? He looked like C3-PO had eaten R2-D2. And he also looked like all of this:
And Ceelo's outfit was not the only bizarre fashion choice on the red carpet. 
For some reason, he wasn't even the only music superstar to look like a super villain. Taking an opportunity to be extra and get twitter talk seemed evident with these looks that attempted:
Being a villain?
Being an ogre princess?
Being a ball pit?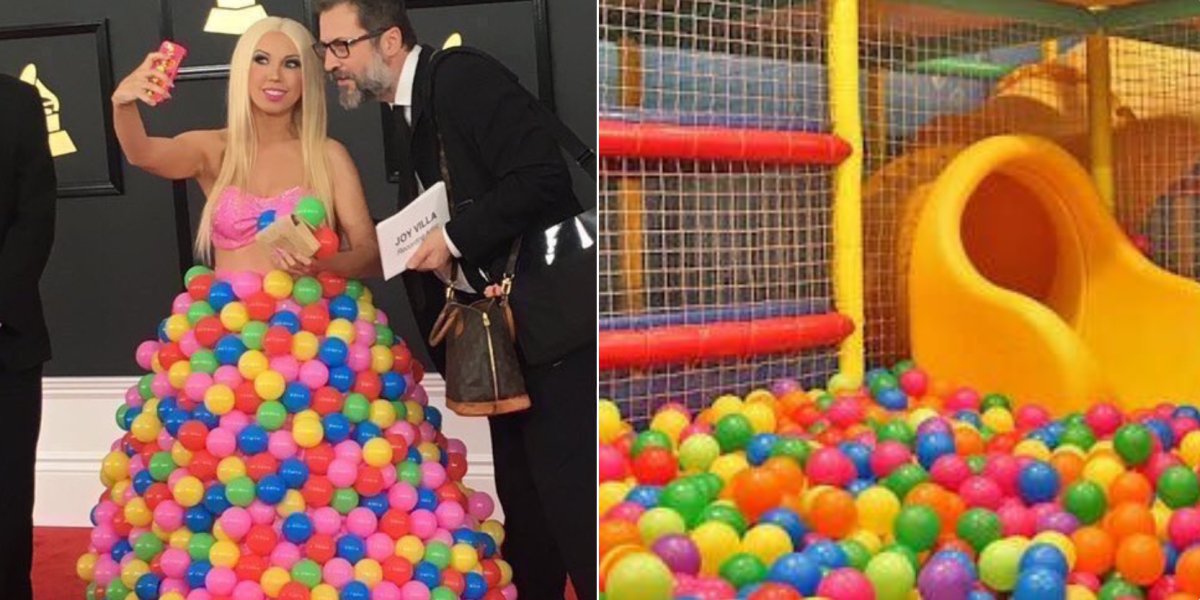 And this best sums up what was going on with Lady Gaga…
Then Beyonce stepped on stage like divine perfection.
Literally. She took this opportunity to show everyone that she has elevated herself from being Queen Bee to being a god. And to prove she is truly above it all, she showed us that the laws of physics don't even apply to her.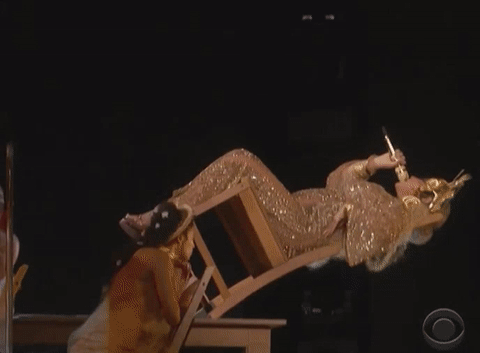 Isaac Newton: I present my universal law of gravitation theory

Beyoncé: I think not sweetie pic.twitter.com/B9hmtlnXhE

— Beyoncé Facts (@beyceipts) February 13, 2017
That breathtaking chair moment
And in case you forgot and the subtle Madonna references didn't remind you
Beyonce is pregnant with twins. But that didn't seem to stop her.
Meanwhile, Adele, won. Pretty much all the awards.
But not without some rough moments, including when she stopped the Grammys to start over during her tribute to George Michael performance.
So Beyonce may be able to defy physics, but Adele proved she could defy the laws of time set by live tv and get a do-over.
And also that she could make as many award show faces as Winona Ryder.
It was clear that Adele was in no way interested in competing with Beyonce. And in fact, she pulled a Cady Heron from "Mean Girls" and when a piece broke off of her Album of the Year Grammy, she seemed to take that as an opportunity to share with Beyonce.
Adele Broke her Grammy and gave the other half to Beyonce! Legit straight out of Mean Girls! 😂 #GRAMMYs#grammys2017#Beyonce#adele#AOTYpic.twitter.com/xLz2WuplxO — Randall (@JunkyGS) February 13, 2017
Yes, the 2017 Grammy Awards were certainly not without drama or great internet material.
13116 Total Views
6 Views Today